Welcome to Public Information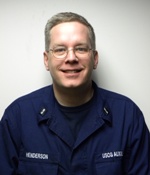 Trevor Henderson

Flotilla Commander
Hello and Welcome to Flotilla 4, U.S. Coast Guard Auxiliary
On behalf of the members of our Flotilla, Iíd like to welcome you to the public pages of our Web Site. We are a very diverse organization with a wide variety of backgrounds, interests, talents and skills, but with a common goal and determination to make a difference in the safety and security of our nationís waterways.
Our area of operation includes much of Central Iowa . We balance our training, resources and assets between our missions of Search and Rescue, Recreational Boating Safety and Environmental and Maritime Domain Protection. We perform all the tasks and functions of the Active Duty Coast Guard except direct law enforcement and armed military operations. We were formed by Law enacted in 1939 and report directly to the Commandant of the Coast Guard.
We are always looking for active new members to wear the Coast Guard Blue and to share in our quest of proud traditions and worthy missions. Wonít you join us and help us truly make a difference? Please enjoy the rest of our web site.
Semper Paratus! Always Ready!