Welcome to Member Information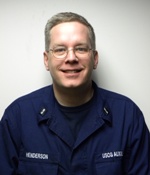 Trevor Henderson

Flotilla Commander
Hello and Welcome to Flotilla 4, U.S. Coast Guard Auxiliary
Forging ahead in 2012, there is enormous potential and opportunity for each of us in the Flotilla. Each year we learn of more ways to fulfill our missions to the people we serve. Your Flotilla Staff is here to help you hone the skills, talents, and training needed for success in these missions.

Let's work together to meet the needs of the boating public, to ensure the safety of ourselves, our neighbors and our marine environment in all the missions of the Auxiliary during 2012.
America's Volunteer Guardians Semper Paratus! Always ready!
Semper Paratus! Always ready!